New Xray 2006 1/10 Touring Car: "T2"
(Source: Xray)
It is official, Xray announces a new kit for 2006: T2, which will succeed thus the long series of the T1, whose T1 FK' 05 will be the last.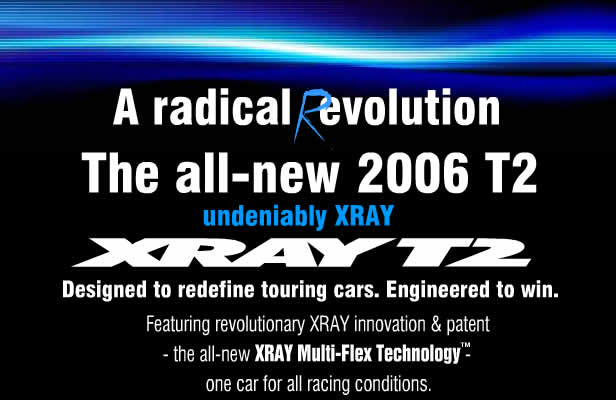 No photographs for the moment, but here the comments of anybody having been able to see the prototypes between the hands of the Hudy family, which one can read on various sites:
RC Zone - http://www.rczone.net/:
The first hints came from various sources a few weeks ago and now it seems the project has advanced enough for a prototype to be used at last weekends Team Orion Speed Weekend meeting in Germany. It appears that the prototype was used by Martin Hudy in Rheinberg whereas the other Xray drivers run FK'05.
According to reports coming from the race the car was well hidden but it would appear that the new car will look fairly similar to the latest belt-drive offerings from other manufacturers. Where the FK'05 was still very much a refinement of previous Xray's sharing many parts with the older cars it looks like the upcoming car will be a much larger step with almost no parts carried over.
Here's a sketchy list of details as seen by those with inside info:
- same basic layout but with new chassis with changed weight distribution
- lowered upper deck and new bulkheads for easy access to drivetrain
- new adjustable upper deck
- completely new front & rear suspension
- wheels fastened with nuts instead of screws probably indicating smaller wheel bearings
- no information on this but one would assume new dampers
RC World - http://www.rcworld.ch/:
Erste Gerüchte machten bereits die Runde. Nun wurde er gesichtet: Am letzten Team Orion Speed Weekend wurde von Martin Hudy und Yuraj Hudy ein neuer Tourenwagen Protoyp am Rennen eingesetzt. Fotos waren natürlich keine erlaubt.
Gemäss Aussagen von Beteiligten soll der Nachfolger voraussichtlich folgende Neuerungen aufweisen:
- Neues Konzept, praktisch nichts mehr vom Vorgänger wird verwendet
- Schwerpunkt wurde weiter gesenkt, Oberdeck liegt tiefer
- Achsgeometrie vorne und hinten sind komplett neu
- C-Aufnahme und Radträger vorne und hinten ebenfalls mit neuer Geometrie.
- Radaufnahmen jetzt mit Muttern, nicht mehr mit Schrauben
- Neue Aluminiumteile zur Aufnahme der Schwingen
- Neues Topdeck mit mehreren Einstellmöglichkeiten
- Optimierte Gewichtsverteilung
- Neue Chassisteile und Oberdeck
Und das Beste, der Neue soll schon um Weihnachten 2005 kommen!