Team Losi XXXT Sport RTR II Brushless w/XR2i
(Source: Radio Control Zone)
Found on the Radio Control Zone Forum (http://forums.radiocontrolzone.com/showthread.php?t=217104):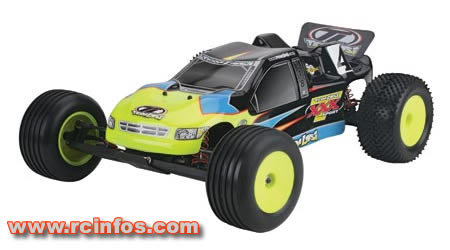 "With the exception of some third-party companies doing conversions, this is the FIRST brushless RTR.
Key Features:
-Proven XXX-T chassis
-Novak SS4300 Sensored Brushless Motor and ESC (ROAR legal)
-Factory-finished body
-JR XR2i computer radio system with digital trims and 2-model memory
-High-Torque Z-590M steering servo
-Factory assembled and ready-to-run
Overview:
Team Losi has always been at the cutting edge of design for both racing and sport models. The XXX-T RTR has distinguished itself to be one of the most popular electric Ready-To-Runs due to its racer inspired design and industry leading electronics. Team Losi now raises the bar yet another level with the XXX-T Brushless RTR, the first electric RTR equipped with a state-of-the-art brushless motor system. There is little doubt that brushless power is the future. With greater power, longer run time, better reliability, and much less maintenance, brushless offers more of everything the enthusiast wants. Until now, the only way to achieve this level of performance and reliability was considered costly. With Team Losi and Novak working together to offer this remarkable package the enthusiast can enjoy all of the benefits at only a fraction of the cost. The custom made Novak system includes the innovative sensor-based SS4300 brushless motor, which is ROAR approved. There is also a pre-programmed user friendly Super Sport based ESC with One-Touch Set-Up and Thermal Overload Protection. The ESC features two user-selectable profiles, one with reverse and one without for racing. Both options offer built-in drag and push brakes, which until now have not been available. The XXX-T Brushless RTR brings together the unique combination of a race-proven Team Losi chassis design, premium JR XR2i radio, and industry leading Novak brushless motor system. Best of all it all comes out of the box ready-to-run with a killer new trim scheme. Like all Team Losi RTR's the XXX-T Brushless uses all genuine Team Losi replacement and performance parts.
Specs:
-Type: 2WD Electric Stadium Truck
-Scale: 1/10
-Length: 16.19 in
-Width: 12.88 in
-Wheelbase: 11 in
-Weight: varies with battery used
-Chassis: molded composite tub
-Suspension: independent A-arm type
-Drive Train: three-gear transmission with ball differential & slipper clutch
-Tire Type: ribbed front, multi-pin rear
-Motor or Engine: Novak SS4300 sensored brushless motor
-Speed Control: Novak dual-profile brushless ESC
-Radio: JR XR2i computer radio with 2-model memory
-Servos: Z-590M Hi-torque steering servo
-Gear Pitch: 48 pitch
-Wheel Size: 2.2"
-Kit/RTR: RTR
-Shock Type: Oil-filled aluminum with coil-over springs
-Body: Fury
-Ball Bearings: Complete
Needed to Complete:
-6-cell (7.2v) battery pack
-Charger for battery pack
-8 "AA" alkaline batteries for transmitter."