Philippe Vialla 1/12 French Champion
(Source: LRP electronic)
Phillippe Vialla wins the French Nationals 2006 with LRP Brushless Power!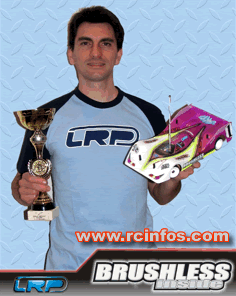 The LRP Brushless technology dominated the French Nationals: LRP wins the 1/12 Championships with its power combination SPHERE Competition and VECTOR Brushless Modified 4-Star.
So it means again: Brushless defeats Brushed in direct competition!
The French Championships consists of 4 races. The last event took place at 11./12. March 2006. After 3 of 4 races, 3 drivers were on target for winning the Championships, so the 4th race had to bring about the decision. The suspense got even higher, because the 3 top drivers were on the positions 1, 2 and 3 after the qualification runs.
Finally, Phillippe Vialla could win the title with his very precise and smooth driving style and perfectly adjusted material. Phillippe trusts in the LRP Brushless Power that gave him the crucial speed and punch to win this race!
Phillippe Vialla used the new LRP SPHERE Competition digital and the LRP VECTOR Brushless Modified 4-Star motor. LRP cut the prices for these competition products about up to 30% in the beginning of 2006!
Phillippe used LRP VTEC 3700 cells. It wasn't possible to use the new high-tech cells VTEC SC 4200UP "Big Mama", because they were not yet allowed in this race.