HB MooreSpeed Bodies
(Source: HB Europe)
Hot Bodies are storming into the competitive world of RC Racing-Bodyshells!
With the huge success of the Cyclone touring car topping the RC world, Hot Bodies are now ready to launch their new product range of competition touring car bodies with the release of two 190mm 1/10th scale high end racing bodyshells - the Mazda 6 and the Dodge Stratus.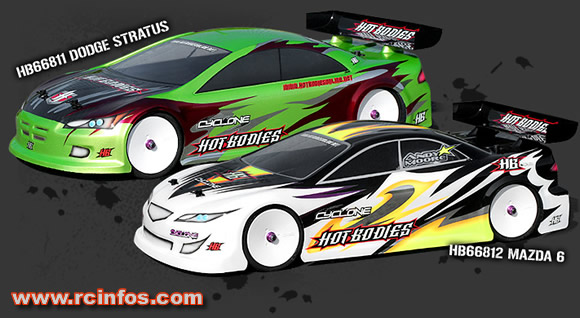 Researched, developed and designed by Europe's very own HB Race Team Champion Andy Moore they are officially named MooreSpeed Edition Bodyshells.
HB MooreSpeed Edition Bodyshells are specifically created for racing with only one goal - to provide the best handling and performance on the race track. The two new HB versions have slightly different characteristics for different track designs.
Each body comes with 3 different wings, all with different characteristics to fine tune the aero dynamics to achieve faster results and best performance on the track. The first wing gives super high down force. The second one gives a more medium down force. While the third gives a much lower down force designed for excellent high speed steering. And because it is impossible to have any idea how much traction any given track will have until you drive on it, with the MooreSpeed Bodies you have the different wings there to choose accordingly!

- The Mazda 6 bodyshell gives awesome downforce and increases traction and steering response for more tight and twisted race tracks.
- The Dodge Stratus Bodyshell has a very smooth profile suited for the high speed flowing tracks.