HPI Savage & Savage-X Center Skid / Protector Plates
(Source: RPM)
Shortly after releasing our A-arms for the HPI Savage & Savage-X, we had a flood of great customer requests for other much needed Savage & Savage-X parts. One of the top suggestions was for a molded center skid plate. Our Savage & Savage-X center skid plates are the ultimate solution to the bare, unprotected underbelly of these awesome trucks. Check out this list of outstanding features built into these center skids:
• Unmatched transmission protection; RPM molded skid plates have molded-in transmission clearance, preventing under-side impacts from slamming into the transmission case.
• Unique skid mounting system allows the RPM skid plate to mount without overlapping the front or rear skid plates.
• Precisely molded to follow the chassis TVP's reducing sliding friction along smooth, grooved, molded surfaces.
• Our center skid extends the protection of the stock front skid plate back the entire length of the TVP's to blend with the stock rear skid plate, providing unmatched protection for the entire drive-line!
• Deep, recessed screw holes to prevent damage to the included mounting screw-heads.
• Outstanding wear resistance from RPM's trademark blend of bulletproof nylons.
• Packaged with all necessary mounting parts & screws (heat-treated, flathead hex screws) and instructions.
• All skid plates come with RPM's unmatched warranty against breakage.
• Available in black, blue, or purple - to match or contrast any paint or color scheme!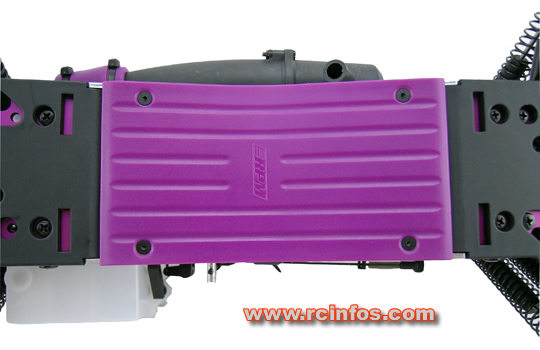 Competitive performance at intelligent prices. Nothing compares to the value and strength of RPM performance Savage & Savage-X skid / protector plates.
Tech Notes: RPM Center Skids are molded and guaranteed to fit stock HPI Savage & Savage-X TVP's only. RPM Savage & Savage-X skid plates are not interchangeable.
#82172 – Savage Center Skid / Protector Plate – Black
#82175 - Savage Center Skid / Protector Plate – Blue
#82178 - Savage Center Skid / Protector Plate – Purple
#82192 – Savage-X Center Skid / Protector Plate – Black
#82195 - Savage-X Center Skid / Protector Plate – Blue
#82198 - Savage-X Center Skid / Protector Plate – Purple